Nytt ledarprogram för ett hållbart ledarskap
Längtar du efter mer balans, större arbetsglädje och bättre, mer hållbara resultat? Nu startar vi ledarprogrammet Mind Your Business Camp för ett hållbart ledarskap. Känner du ibland en frustration över att tiden och energin inte räcker till åt allt du vill åstadkomma? Eller en känsla av att aldrig vara nöjd även när du nått ditt mål?
Styckas din dag upp av möten och ett ständigt flöde av mail som ska besvaras? Om du bara hade fått sova ordentligt hade du kunnat fokusera. Nu flyter tankarna ihop och hur du än försöker kan du inte koncentrera dig. Lunch, nej det skippade du visst igen för att hinna i tid till nästa möte. Känner du igen dig?
Få mer gjort med mindre ansträngning
När chefer får fokusera och arbeta i flow ökar deras produktivitet med upp till 500%. Det visar studier utförda av bland andra McKinsey. När vi är stressade mår vi dåligt, fattar sämre beslut och blir sämre på att samarbeta. Så varför stressar vi så?
Föreställ dig hur det skulle vara om du kunde få gjort upp till 5 gånger så mycket som idag. Hur mycket mer du skulle få gjort och ändå ha tid över för annat. Slippa det ständigt dåliga samvetet, hinna med din egen träning och äntligen uppleva balans och arbetsglädje igen!
Med små medel kan du göra stor skillnad för både dig själv och andra. Känner du till 80/20 regeln? Hur du genom att fokusera på de aktiviteter som ger mest resultat faktiskt kan jobba mindre och åstadkomma mer? Det låter kanske för bra för att vara sant, men det har gång på gång bevisats i studier.
80/20-regeln går som en röd tråd genom Mind Your Business Camp – ett helt nytt program för ledare som längtar efter mer balans i livet, större arbetsglädje och mer motivation både för sig själv och teamet. Här fokuserar vi på det som verkligen är viktigt och som kommer att ge dig snabba, märkbara resultat.
I programmet får du:
effektiva och smarta verktyg för att förebygga och bättre hantera stress
kunskap om hur stressen påverkar dig, ditt välmående och din prestation
en personlig handlingsplan för hur du på ett varaktigt sätt kan bli en mer hållbar ledare
verktyg för att öka din mentala motståndskraft och förmåga att fokusera
förhållningssätt för motivation för individen och teamet
BONUS! Dessutom ingår två tillfällen med individuell coaching där du får möjlighet att utforska dina önskningar, behov och möjligheter.  
Efter programmet kommer du att ha lärt dig hur du leder dig själv för att få bättre balans i livet, få mer gjort med mindre ansträngning och hur du kan öka både din egen och andras inre motivation.
Jag har skapat det här programmet tillsammans med Dr. Annika Sörensen, stressexpert, läkare samt välkänd föreläsare och författare. Tillsammans håller vi i programmet och de individuella coachingsamtalen. 
Fall -21 the program will be in English.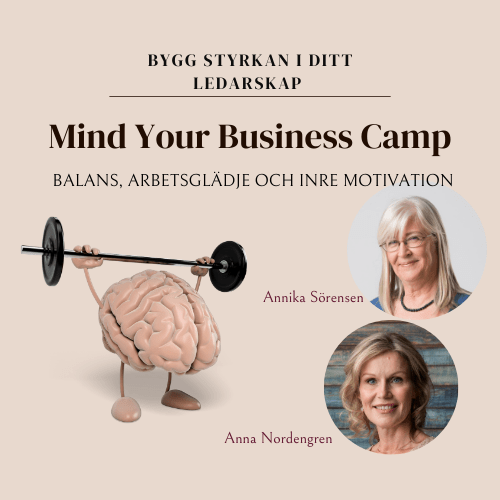 Book a FREE Call!
Do you want to know more before you decide? Book a FREE call and find out how I can support you!
Book a FREE Call
Book a FREE strategy call - 20 min. Let's get acquainted over a coffee on ZOOM.